Harrods Creek Fire Protection District – HCFD.ORG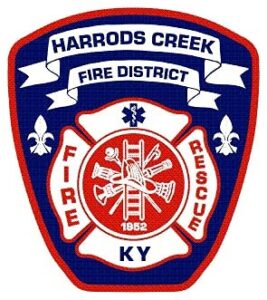 Under the leadership of Chief Kevin Tyler, the Harrods Creek Fire Protection District serves approximately 20 square miles of Eastern Jefferson County in Louisville, KY. We provide Fire & Rescue services as well as ALS first response to our District and surrounding areas.
Our Mission
Preserve Life and Property Through Prevention, Education and Response.

Our Vision
The Harrods Creek Fire Protection District will continue to serve our community without prejudice of social, economic, or cultural backgrounds. Through uncertain economic times we are committed to developing all of our resources – both internal and external – to their fullest potential, while empowering each member with the authority needed to effectively and efficiently perform the duties with which we are entrusted.
As Fire Chief of the Harrods Creek Fire Protection District (HCFPD), I have the opportunity to serve in a destination community for both citizens and visitors. The Harrods Creek Fire Protection District is fortunate to have the finest fire service professionals in the state. The men and women of the HCFPD are highly trained, extremely motivated, well educated, and loyally focused on their core mission of serving the community.
HCFPD has a rich history of service to a growing community and now offers comprehensive fire, hazardous incident response and emergency medical services in a community of approximately 22,000 citizens in a 20 square mile area.
The HCFPD is a core member of the Jefferson County Fire Service and participates in automatic aid with neighboring fire districts. This system ensures that the closest available appropriate resource responds to calls for service regardless of municipal jurisdiction and that an orderly and reliable incident command system is utilized.
Your HCFPD Firefighters have bravely and successfully confronted the hazards of our growing suburban environment, and continue to mitigate complex life safety problems through risk management, strategic planning, disciplined deployment, and an aggressive fire attack and rescue philosophy. The hard-working professionals of the HCFPD are dedicated first and foremost to guarding the quality of life for the citizens and visitors of our community through multi-dimensional emergency response and the protection of life, property, and the environment.
It is our mission to Preserve Life and Property through Prevention, Education and Response.
Training, Health and Safety
Training for the Harrods Creek Fire District is jointly conducted with the St. Matthews and Worthington Fire Districts. Training is coordinated by Training Major Mike Richardson (St. Matthews). Monthly training includes:
Week 1 – Annual/Mandatory training
Week 2 – Crew/Operational Training (Technical Rescue included)
Week 3 – EMS Continuing Education Training
Week 4 – Speciality Training (Instructed by Company Officers)
Training is conducted in two groups with Companies from Station(s) 1 training in the morning and Companies from Station(s) 2 participating in the afternoon.
Health and Safety
Department Health and Safety is coordinated by Major Keith Brooks (Harrods Creek) and includes yearly medical physicals, infection and exposure control as well as the department Physical Fitness program which utilizes IAFF Certified Peer Fitness Trainers who perform annual evaluations and program design for our members.
Read Usefull Information Here